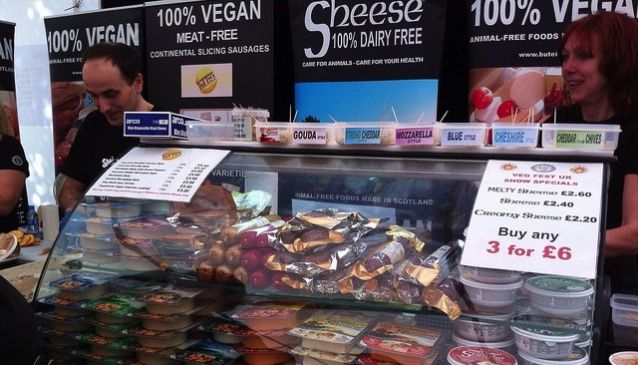 Festivals in Bristol
Arts & Culture
Looking for things to do this summer? Feeling festive? Look no further.
Vegfest is billed as being the largest festival of its' kind in the world. Taking place over a three-day period from 5pm on the Friday night until 9pm on the Sunday, it's a celebration of all things veggie. Don't worry if you're not vegetarian though, there's something for everyone here. As well as a fantastic range of vegetarian food, cookery demonstrations, cookery classes for the kids and talks on nutrition, there's crazy golf, films, stalls, an all day bar, live music and guest DJs. The event takes place on the harbourside. Click here for more information and ticket prices.
Photo by veganoo
As part of Bristol's Big Green Week the Festival of Nature presents wildlife lovers with a feast of entertainment including workshops, talks, stalls and exhibitions and a range of interactive activities. It's a fantastic chance to get close to nature right in the middle of the city. The Festival of Nature is situated on the harbourside and entrance is free. Click here for more information .
Organised by the UK's international festival of environmental ideas, art and culture, this nine-day festival kicks off with the Festival of Nature (see above) and culminates on the final Sunday (23rd June) with the Biggest Bike Ride. The Biggest Bike Ride gives families an opportunity to take to two wheels in the safety of designated roads completely free of cars. Other attractions include a Big Market in the historic city centre, a huge children's playground, electric cycle races, cinema, talks, workshops, comedy, poetry art and music. Click here for more information.
A celebration of LBGT, this is a family event which last year attracted more than 20,000 people. Expect a spectacular parade, market stalls, cultural events, nighttime entertainment and live music featuring international stars. Pride Bristol is free to attend. Keep an eye on the website for the events that usually take part during the week leading up to Pride Day itself.
Perhaps one of Bristol's most well known events, Bristol Harbour Festival brings the harbour alive during a weekend packed with entertainment. There's an array of wonderful boats, water displays, music, street performance, dance, children's entertainment, markets, fireworks and much more. The festivities around the harbour should certainly not be missed if you're in the city. There are plenty of restaurants in this area if you feel the need to refuel during your visit.
Photo by Speculum Mundi
2013 sees the 35th Bristol International Balloon Fiesta. Internationally acclaimed, this event is held at Ashton Court on the edge of the city. Expect to see amazing mass balloon ascents, wonderful special shape balloons, spectacular nightglows, aerobatic displays and fireworks. If that's not enough there's fairground rides, arts and crafts stalls, food and beer stalls to keep you happy. The event is free to attend. Top Tip: make use of the special bus service, as parking can be problematic.
Encounters Short Film and Animation Festival (Bristol, UK) takes place at the Arnolfini and Watershed on the harbourside. Staging some of the best short films from around the world this festival provides filmmakers with an important doorway to some well-known awards including the BAFTAs and the European Film Awards. Click here for more information. If you are looking for other things to do between films there is plenty of choice around the harbourside.
Photo by N. Hindmarch
For Bristol's answer to Glastonbury, local music lovers head to Brisfest. For one weekend, Ashton Court is transformed into a popular community music festival showcasing up and coming bands. With entertainment for all the family there is more to Brisfest than just music. You can see street art in the making, theatre, comedy and circus.
This annual event provides an opportunity to visit some hidden treasures around Bristol. Doors open up at some fantastic places of interest that are usually closed to the public. You can tour Redcliffe Caves, the historic Clifton Rock Railway, several ancient churches, interesting factories, beautiful gardens. and even inspect the workings behind the clock on the Corn Exchange. Top Tip: If you would like to take the tour up Wills Memorial Tower it pays to book in advance, as it gets full very quickly. Click here for more information.