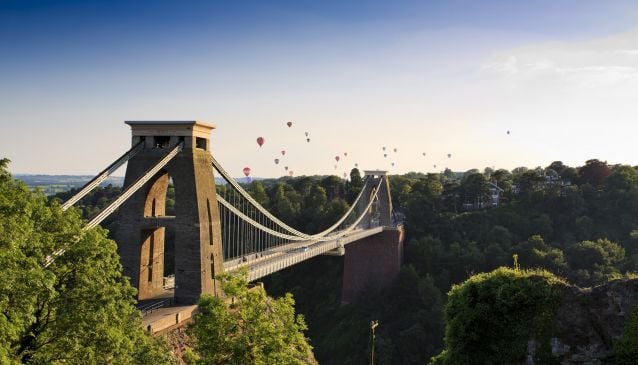 Five Top Family Friendly Restaurants in Bristol
Editorial
Find a little person friendly menu and tolerance for the odd tantrum in Bristol
When it comes to family friendly restaurants, it can sometimes be tough. Whether it's finding the right little person friendly menu, places with highchairs or a tolerance for the odd tantrum, there are plenty of these places about in the quirky bohemian city of Bristol to take your little ones out to dine.
Arnolfini Café Bar
Looming over the river is the Arnofini Café Bar. With one of the best locations in the city, sit inside for views over the cobbles of the river, or perch outside for the real deal. As part of the Arnolfini gallery, one of Bristol's best and most loved independent galleries and art centres, the café offers a place to visit separately too. The rustic Italian menu uses local and fresh ingredients for its sandwiches, soups, pasta, risotto and little pizzas. The kids menu doesn't have a chicken nugget in sight and there are crayons, paper, books and games for entertainment too to keep them going.
Tinto lounge
One of the most popular and family friendly places to eat in Bristol are the 'Lounges'. Three of them are dotted around Bristol from Fishponds to Whiteladies Road and here on the infamous Gloucester Road. Inside is shabby chic vintage decoration of black and white photos hung on the wall and large tasselled lamps, giving the 'lounge' feel. The 'little loungers menu' is kid friendly sized (and priced) bites. From mini versions of their amazing breakfasts of poached egg and beans on toast to a good all-rounder baked macaroni cheese. For the not so little kids, or 'little bit bigger loungers' are larger meals such as 4oz hamburger or for the more adventurous a mezze platter inspired by the tapas menu. Not to mention the ice cream desserts too – the perfect bribe for good behaviour! Books are stacked on bookshelves, along with classic board games, such as connect 4 to entertain everyone in the laid back atmosphere.
The Farm
When it comes to Sunday roasts, there is perhaps no better place than 'The Farm' – so popular its vague name is still recognisable. Named so for being next to a farm, full of pigs, goats and chickens all for kids to see and enjoy. The pub in the alternative community led area of St. Werburghs has a huge attractive mural on the outside wall of a balloon (from Bristol's annual balloon fiesta). The large outdoors area with picnic tables, covered area and large rocks painted like animals for kids to climb over make it one of the safest and children friendly pubs in the city. Inside the pub is snuggly warm ready for winter. The kids' roasts are a manageable size with heaps of local fresh vegetables. Just get there quick as they sell out fast every single week! If your little ones aren't up to a roast, there is a kids menu, and they will make most items off the menu in kid's portions too.
The Social
Huge brown leather sofas and club chairs are the perfect place in The Social on Gloucester Road to grab a coffee and locally made cakes with the little ones. Let the children roam about in the little kid's area full of books, toys and games. This is another great family eatery with classic board games that older kids can join in and play with too. Most of the full menu can also come in kid meal sizes. The menu is changed seasonally to keep up with fresh in-season local foods and vegetables and of course, a huge range of vegetarian and vegan food. There is also more Bristol-esqu graffiti like wall art painted on the insides of the walls here, just in case you might forget what city you're in.
Café Maitreya
For full on veggie and vegan family friendly food in Bristol, head to Maitreya Social in Easton. With this type of eating really taking off in recent years, Café Maitreya has really focused on this niche market and opened it up to the rest of the public to try too, making it perfect for kids with special dietary requirements. Breakfast starts at 10amand there is a lunch menu and evening meals too, so, all your veggie cravings will be satisfied. Try a veggie and vegan take on the traditional cooked English breakfast, with special kid's options too. When you've filled up enough, there are also exhibitions here, so you can get a bit cultural with the children.