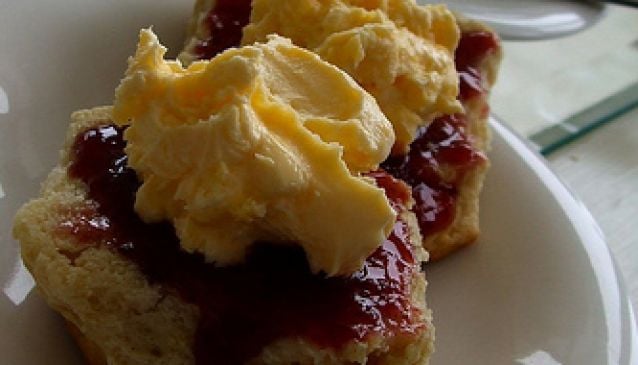 Afternoon Teas in Bristol
Food & Drink
Put aside all thoughts of calorie counting
Experiencing the delights of a traditional Afternoon Tea is one of the joys of visiting England. Bristol, like many other British cities,offers a choice of establishments where you can spend a few hours indulging in this most enjoyable custom. Put aside all thoughts of calorie counting though, as a full Afternoon Tea is usually comprised of more than just a cup of tea and a small slice of cake. You are more likely to be presented with a veritable feast including a range of finger sandwiches; scones served with cream and jam and of course a selection of scrumptious cakes. All this is served with a pot of fine tea and for the more indulgent, a glass of champagne. If you think you'll be defeated by such a huge spread,opt for the traditional Cream Tea consisting of scones, cream and jam served with a pot of tea. Tempted? This guide will help you choose where to find the best Afternoon Teas.
Bristol Marriott Royal Hotel: Bristol Marriott Royal Hotel is one of the top hotels in Bristol and will certainly not disappoint if you are looking for a taste of elegance and sophistication. Located by Bristol Cathedral, very close to the harbour-side attractions, afternoon tea here will provide a welcome break from sightseeing. Feast on delicious sandwiches, wonderful pastries and scones with clotted cream and jam. There's even a specialty Tea Menu – choose from Earl Grey, Darjeeling Jungpana, Royal Afternoon Gold, Tarry Lapsang Souchong and more. If you are feeling flush add a glass of bubbling champagne.
Price range: £16 - £25 (Cream Tea around £9.50)
Hotel du Vin: If you are looking for peaceful ambience and a taste of luxury, Hotel du Vin will fit the bill. Located in a building that was previously a Sugar House, Hotel du Vin provides a tranquil atmosphere, despite its' location close to the harbourside and city centre. The tea menu includes no less than 7 different types of tea, including Blend du Vin, their own blend using tea from Ceylon, Africa and Assam. There's even a Tea Sommelier on hand to help you choose if you are unsure which to pick. You can also enjoy a glass of champagne here or for something a little different you can opt for an English Gin and Tonic or a cocktail served from a china cup.
Price range £14.50 -£22 (Cream Tea around £7.50)
The Bristol Hotel: Situated on the harbour-side the relaxing atmosphere in the River Lounge at The Bristol Hotel is a wonderful place to rest those weary feet and enjoy a well-earned tea stop. Indulging in a delightful selection of mini sandwiches, mini cakes and scones, cream and jam is the perfect way to refuel before moving on to the next attractionon your agenda. Add a gin cocktail or glass of champagne for a bit of extra zing.
Price Range £17.50 - £25
2nd Floor at Harvey Nichols: Harvey Nichols is the Bristol branch of the world famous London store. Ideally situated for those looking for a tea break whilst on a shopping trip to Cabot Circus, the restaurant on the top floor provides a stylish setting and a top class experience. If you can drag yourself away from the designer fashions on the 1st floor, prepare to indulge in all the traditional trappings of an English Afternoon tea, with or without a glass of champagne.
Price Range £15.50 - £22.50
Lido: Situated in the Clifton area, The Lido provides a unique setting in which to enjoy your tea - over-looking a beautiful, renovated, outdoor Victorian swimming pool. Enjoy Smoked salmon on toast, a glass of either Prosecco or Henriot Champagne and a cream tea whilst watching the swimmers pounding up and down the pool. Those who want to go to town may like to book a pampering treatment in the spa as well.
Price Range £16.50- £19 (Cream Tea around £5.50)
Browns: Afternoon Tea at the stylish Browns is a favourite with university students and their families celebrating Graduation Day as well as with shoppers and sightseers. On sunny days you can enjoy watching life on Park Street from the terrace whilst you sup, or if the weather is not so favourable, retire to the grand interior. Afternoon Tea here is a relaxed affair with all the usual delicacies on offer and the option of adding a glass of champagne or a Hendricks and tonic to complete the experience.
Price Range £9.35 - £23.95
You can of course find numerous cafes in Bristol serving tea and cakes at any time of the day but for the ultimate experience we recommend you try one of the above establishments. If you're looking for things to door shopping experiences to tie in with your Afternoon Tea trip check out our suggestions at My Guide Bristol. Happy supping!
Cream Tea: Top photo by chatirygirl http://www.flickr.com/photos/chatiryworld/3641918202/