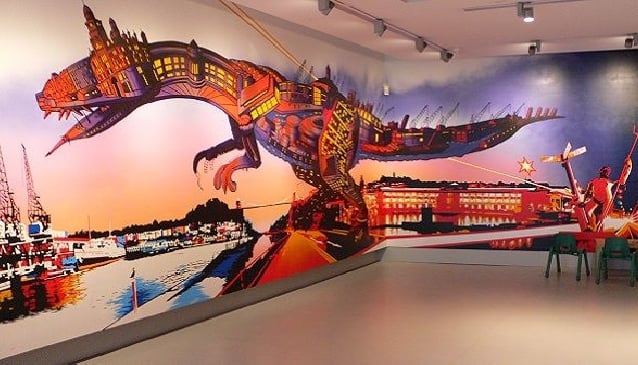 Family Fun in Bristol
Family Fun
If you fancy a day out at a traditional seaside resort, head for Weston-super-Mare.
Things to do for all the family…
What is the key to successful family holiday? Ask any parent and the answer is sure to be "if the kids are happy and having a fantastic time, life is great". For precisely this reason, families often shy away from city breaks. What to do with the kids is always at the front of parent's minds so they never have to endure the perpetual chorus of "I'm bored"! You may be surprised to find that this is far from the truth and that a great family holiday can be had away from the sea, sand and ubiquitous amusement parks. In Bristol there is a multitude of activities to keep the little ones happily occupied and the adults entertained. On a family holiday in Bristol a typical family may fit in one or two well known attractions, visit a child friendly museum, have a meal out in a restaurant, do a bit of shopping and maybe fit in a day trip to see a bit of the surrounding countryside. Here are some of the activities you may want to fit in on your visit to our city.
Attractions
To start with you will probably want to head along the harbourside to climb aboard the SS Great Britain, the famous Victorian ocean going sea liner. Make sure you pick up one of the audio guides at the entrance; some are specifically tailored to appeal to young ears. Most children particularly enjoy searching for Sinbad the ship's cat whilst exploring the decks and the engine room. The great thing about this attraction is that your ticket allows entry any number of times within the year so, if the little ones get tired half way through you can leave and come back the next day.
Next up is the Harbourside Railway- kids (young and old) love clambering aboard and being transported back to the age of steam. The train does not run every day but if you are in Bristol in the summer, on some weekends you can climb aboard this old steam train for a ride along the harbour.
Then, how about a visit to the M Shed? This flagship museum is a far cry from the museums I used to visit in my childhood, with glass cases showing off artefacts and strictly no touching! Children are positively encouraged to get hands on in the M Shed where there is a multitude of activities to capture their interest and even a double-decker bus just begging for youngsters to jump on and play.
At-Bristol is next on the list. This hands-on science centre is far from boring and boasts a multitude of fun (and educational) activities that appeal to all age groups. Once inside it will be hard to tear them away. Look out for show times in the Planetarium where star gazing shows are tailored specifically for youngsters.
Getting Close to Nature
You probably won't want to miss a visit to Bristol Zoo Gardens that offers much more than just gazing at the animals. Having said that, many an hour can happily be spent, being entertained by the antics of the gorillas. The children will love clambering at tree height on Zoo Ropia, exploring the adventure playground and feeding the small parrots. The list of activities goes on and on so plan to spend a full day here and take a picnic or visit the cafe.
Next you can take a car trip to Slimbridge Wild Fowl Centre to see swans, flamingos, geese, ducks and other seasonal visiting birds. Pick up some wild seed as you go in to feed the birds – the kids will be delighted when some of the ducks and geese come close up and take the seed straight from their hands! There's "Wellie Boot Land " where they can splash around and learn how to construct dams (remember to take a towel and a change of clothes) and on specific dates you can all explore nature from the water on a canoe safari. It will take the best part of a day to explore Slimbridge so take a picnic or visit the on site café.
Still not had your fill of nature? Back at the harbourside there is Bristol Aquarium that gives the children the opportunity to gaze at marine wildlife from underneath in a purpose built glass tunnel – they'll be wowed! One tip is to time your visit with feeding time so they can see a feeding frenzie at close hand- fish don't have table manners!!
Outdoor Activities
Want to give the children some freedom? Race them up Brandon Hill (If you are sure you will win) and then challenge them with the ascent up Cabot Tower. You will be rewarded with splendid views of the city and they will have a sense of achievement and be tired out (you hope)! Take a ball for a kick around in the park and a picnic if you dare – the host of grey squirrels love titbits, especially a bite of cake or a sandwich!
If you fancy a day out at a traditional seaside resort, head for Weston-super-Mare. They will love the pier where they can spend their holiday money in the amusement arcade, race round in dodgem cars, scream in the ghost train and wiz down the helter-skelter. Then you can treat them to an ice cream – after all, it wouldn't be the seaside without ice cream! In the summer they can enjoy the freedom of the vast beach and maybe have a paddle or a donkey ride.
Visit the caves.
Children love exploring life down under at either Wookey Hole or Cheddar Gorge Caves.
Tales of the "Wookey Hole Witch" will hold them spellbound at Wookey Hole Caves and they will be happily occupied by a wealth of attractions here including a Victorian penny arcade where they (and you) can try their luck using real "old" pennies.
At Cheddar Gorge you can explore the underground passageways and view fantastic stalactite and stalagmite formations. Complete the day with a visit to one of the cafes serving traditional English Cream teas, then buy some authentic Cheddar Cheese and some Somerset cider.
More
Still looking for things to do? How about a boat trip? Either hop on one of the ferries you will see cruising up and down the water by the harbourside or look out for one of the day or afternoon trips that are advertised by the water's edge – these trips are tide and weather dependant. For an alternative maritime experience join one of Pirate Pete's hour walks around the harbour – he will wow them with pirate stories, show them some hidden pirate haunts and help them search out pirate treasure! If that's not enough there are cinemas, an open top bus tour and indoor golf at Cabot Circus to keep you all amused.
To round off the day:
After all that activity you will probably want something to eat. Most restaurants welcome children, many have special kid's menus and some offer special "early bird"menus. If you are round the harbourside, Za Za Bazaar is a great restaurant for families – the children can "pig out" on all their favourites including sweets and ice cream while the adults can choose a more grown up option.