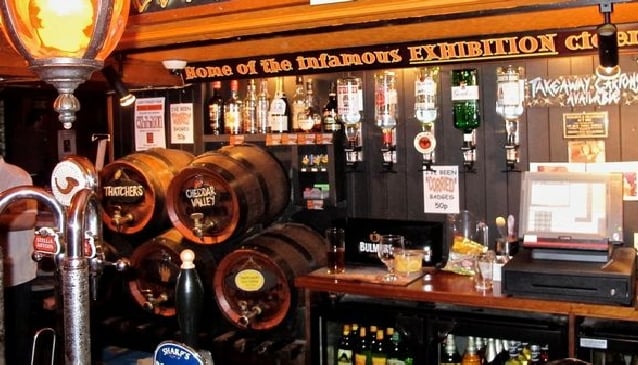 The Bristol Cider Trail
Food & Drink
18th century farm labourers in the South West often received one fifth of their wage in cider
"I am a Cider Drinker, I drinks it all of the day, I am a Cider Drinker, it soothes all me troubles away", so goes the chorus of the Wurzel's popular chart hitting song. Easy to drink and wonderfully refreshing, over indulgence of this popular tipple has resulted in many a drinker losing the use of his or her legs for several hours!
Cider is extremely popular in the United Kingdom (where the consumption per head is the largest in the world) and local Bristol cider is a must try. The production of cider can be traced back for thousands of years but it is said that it was the Normans who, after the conquest of England in 1066, were responsible for the increase of popularity of the drink amongst the commoners. Every farm would have it's own cider orchard and in the 18th century farm labourers in the South West often received one fifth of their wage in cider!
Today this strong traditionally made farm cider is known as Scrumpy, a drink quite distinct from it's mass marketed cousin found on supermarket shelves. Extremely potent, with an alcohol content of at least 7% by volume, Scrumpy is a semi-liquid, apple pulp with a sharp tasting tang.
For those who are not fond of Scrumpy (it is an acquired taste) there are many other types of cider available. From cloudy to clear, light yellow to orange or brown, dry to sweet and with an alcohol content ranging from 2% to 8.5% by volume, the choice can be bewildering. The best advice is to try a few to see which suits your palate but spread your consumption carefully - too many of the stronger ones may result in you being carried back to your accommodation!
Whilst most pubs in Bristol sell cider there are a few speciality bars noted for their quality and range that should be included in your quest to taste the best. Start off near the water with a visit to the The Apple, a cider pub located on a converted Dutch Barge. Here you will find nearly 40 ciders on tap. Versions made from pear, strawberry or raspberry as well as apple are available and some are even mixed as cocktails. For a great local brew try Black Rat or Old Bristolian and for the cocktail lover, Bristol Pimms is a favourite on a summer day. If you are not sure which to choose ask the friendly bar staff for advice. The informal and buzzing atmosphere is conducive to relaxing on the deck, quayside terrace or down in the hold – the slight swaying must be due to the movement of the boat, not the effects of the cider! Try a ploughman's lunch as an accompaniment to your favourite tipple, a popular food in Bristol.
Next you need a short walk to get some air. The Bristol Cider House is located fifteen minutes away in a Georgian building on Surrey Street near Cabot Circus. Here you can become a connoisseur by treating yourself to one of the Bristol Cider House's Tasting Trays containing eight glasses, each holding a third of a pint of locally produced cider accompanied by hearty chunks of bread, cheese and pickle. You can jot down your opinion of each brew on the tasting notes provided with your tray, detailing the brand names and alcoholic strengths. If you prefer to drink by the pint they stockup to 8 brews on draught and wide range in bottles. Thatchers, Broad Oak or Black Rat are good ones to try.
The next recommendation is The Coronation Tap in Clifton, affectionately known by locals as The Cori, The Coritap or The Tap. This 'legendary' pub is only a stone's throw away from Brunel's famous suspension bridge. Usually packed with students and locals, it is famous for a special and extremely strong 'Exhibition' cider (8.4% by volume). Because of it's strength it is sold in half pints only – have a second if you dare!
If you don't fancy that try Addlestones, Cheddar Valley or Taunton Traditional. The pub often has live music and is very busy at weekends but is well worth a visit for the bustling atmosphere and local ciders. So enjoy imbibing but remember it is powerful stuff -many a visit can be ruined by overindulgence!
Back down at the harbourside pay a visit to the Golden Guinea, one of the best back street pubs in Bristol. Given that this pub is close to the building reputed to be the home of the famous pirate Blackbeard. It's not surprising that its' own unique cider is called Blackbeard Cider – another strong one at 8.4%. The Golden Guinea is a local "neighbourhood" pub rather than a cosmopolitan city centre one and has a great selection of real ale as well as cider.
If you have developed a taste and want to buy some cider visit the Bristol Cider shop in Christmas Steps stocks over 80 varieties of draught and bottled cider all made within 80kms of Bristol.