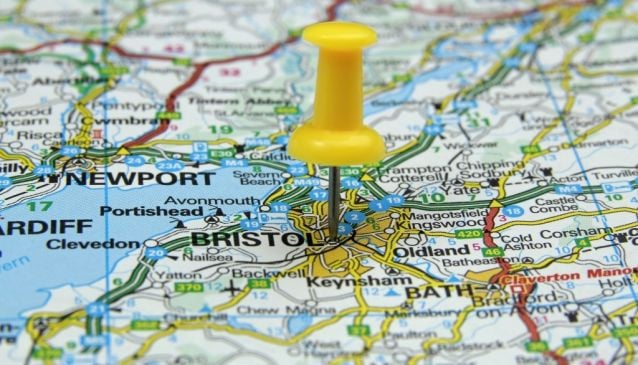 Bristol's Top Attractions
Editorial
Bristol began from humble beginnings as a 'place by a bridge'.
While the area of Bristol has been inhabited since as far back as the time when Neanderthals wandered Western Europe, the town was actually founded during the 11th century and was quickly established as a prominent port. Its prosperity was synonymous with the sea; the port of Bristol imported produce, resources and stories from around the world. Bristol has ever since continued to grow its history and its culture by the banks of the River Avon and through its water, giving attractions that continue to turn the heads of tourists.
Perhaps the most famous passenger of Avon's waves was the SS Great Britain. Designed by legendary engineer, Isambard Brunel, the SS Great Britain was launched in 1843 and so was born one of the most advanced steamboats of all time. SS Great Britain ferried passengers from Bristol to New York in just 14 days and even transported immigrants to Australia before she was retired to the Falkland Islands in 1884. In 1970, she was returned back home to the Bristol dry dock, where she can be toured and explored by visitors today.
The SS Great Britain was one of many ships that dominated Bristol's harbour throughout the centuries. The inevitable result of these nautical endeavours was an income of diverse foreign products, which varied from fabrics and foods to jewellery and other resources. These products and their traders came together at St Nicholas Market. First opened in 1743 on Corn Street in the city centre, St Nicholas Market still stands today as a testament to Bristol's history of trading and it's as popular as ever. Here, you can enjoy the quirky atmosphere, browse for a variety of goods and food from over 50 stalls; you can even check out the farmers' markets that surround Corn Street on certain days.
Staying true to its position by the sea, Bristol Aquarium houses an array of exotic and bizarre marine wildlife. Come and see their tropical sharks, seahorses, giant pacific octopus and more inhabitants from under the sea. One of the highlights of the aquarium is the underwater tunnel, which offers a unique opportunity to stroll through the heart of one of the more beautiful ecosystems. Alternatively, you can visit land animals at Bristol Zoo, where you can see animals native to foreign continents. Aside from boasting a high number of animals, the zoo has several play areas for children including Heap of Trouble, which highlights the importance of recycling.
The principle landmark of Bristol is arguably the Clifton Suspension Bridge. This city has always been associated with a great bridge; indeed, its name stems from its Old English title of Brygstow, meaning 'place at the bridge', and none has ever rivalled Clifton Suspension Bridge. At an impressive 150 years of age, this bridge has provided breath-taking views of the Avon Gorge to generations of Bristolians and the area has become a magnet for hotels, pubs and restaurants. Speaking of great views, one of the more impressive sights in South West England is Bristol Cathedral. Founded as an abbey in 1148, Bristol Cathedral is marvel and a testament to English architecture; earning its status as a Grade 1 Listed Building. The cathedral offers guided tours around its historic grounds, which will walk you through all its splendour.
Such is Bristol's history that a nigh on nine hundred-years-old cathedral is not their oldest standing building. At Berkeley, you can visit a castle that dates back to the 11th century. This is a well-preserved Medieval castle that was temporarily owned by the Tudor dynasty, lived through a civil war and was the scene for the murder of King Edward II – according to popular opinion. Experts will guide you through Berkeley Castle and show you all the different areas; including tapestries, the kitchen and the dungeon, where – according to folklore – you can still hear cries from Kind Edward's murder every year on the anniversary of his death.
With all of these landmarks and a booming trade business, it would be no surprise to learn that Bristol was home to some very successful people. One such individual was William Gibbs. As the richest non-noble in England, Gibbs acquired a house that befitted such wealth in the shape of Tyntesfield; a superb Victorian country house that was bought by the National Trust. Gibbs had the property redeveloped and advocated the Gothic style of architecture, which combines with its Georgian charm to create an elegant home in a serene country setting – making this one of the most picture-friendly attractions to visit.
To more of Bristol's modern attractions, At-Bristol offers a hands-on approach to the scientific world. This is a science museum that strives to make science accessible to all, with interactive exhibits, shows and workshops, and a planetarium. Exhibitions like Real Brain and Flight Zone – which focus on displays of a real human brain and flying respectively – continue to attract visitors. M Shed represents Bristol's most unique museum as its subject is a theme that cannot be fully appreciated anywhere else. Its three main galleries focus on Bristol places, Bristol people, and Bristol life, all combining to tell this city's story.
It is fitting that a museum about Bristol is located by the harbour, where Bristol began from humble beginnings as a 'place by a bridge'. It is from the riverside that Bristol emerged as a city and, along the way, provided us with variety of attractions with Bristolian charm.