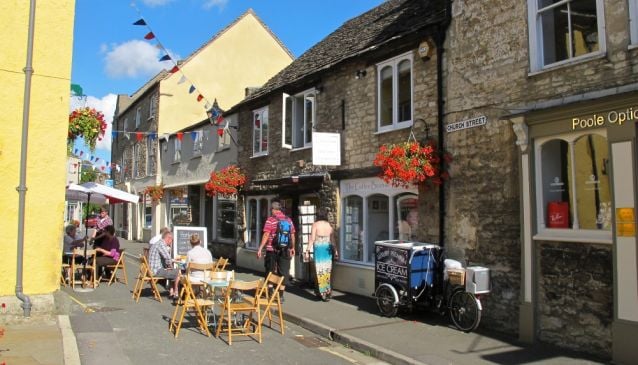 Discover the Cotswolds
Arts & Culture
The Cotswolds are an area of outstanding natural beauty
If you are visiting Bristol and wish to see a bit of the surrounding area we highly recommend a day trip to the southern edge of the Cotswolds. You will need to hire a car, but you will not have to motor many miles before you find yourself surrounded by countryside that has been officially designated as an Area of Outstanding Natural Beauty. The gently rolling hillsides interspersed with sleepy villages and bustling market towns, many of which have remained relatively unchanged for several centuries, can easily seduce you into believing you have stepped back in time. Once in this area you will begin to understand why many of the rich and famous from London have second homes in the Cotswolds: Liz Hurley, Kate Moss and Hugh Grant are just a few who have residencies here.
For an enjoyable day out we suggest you head to the market town of Tetbury, situated about 37 kms from Bristol. The best route to take from Bristol is via the M4 eastbound towards London. Leave the motorway at Junction 18 and head north along the A46, continuing down this road and then joining the A433 towards Tetbury. Look out for the signs for Westonbirt Arboretum: it is well worth a stop at this 19th Century Park that houses 2,500 different tree species. Visitors who come in Spring will be rewarded by the colourful display of rhododendrons in full bloom, whilst those who come in Autumn will see the spectacular splendour of the foliage before the trees lose their leaves. If you wish to stretch your legs there are over 25 kms of paths here for you to stroll around with organised guided walks also available.
Leaving the Arboretum, continue towards Tetbury and just before you reach the town you will pass Highgrove House on your left - the famous residence belonging to HRH Prince Charles. The Prince of Wales has overseen the recent transformation of the estate gardensinto several interlinking areas such as the vegetable garden, a collection of Beach trees and a wild flower meadow. The house is not open to the public but you can take a guided tour of the gardens on weekdays from April to October. These tours must be booked well in advance. If you don't manage to take a tour you may still like to visit the Highgrove shop in Tetbury where you can buy produce from the estate or other specially selected and exclusive Highgrove products. Make sure you have lots of pennies in your purse if you want to buy into a bit of royalty though as prices can be steep!
On reaching Tetbury you will be struck by the local honey-coloured limestone that gives the town and the surrounding area its' unique character. This limestone is used on all the old buildings, many of which date back to the 16th and 17th Century: the pillared Market House, for example, was built in 1655 and is still used today for markets on Wednesday and Saturdays. The origins of Tetbury lie with the wool trade and the town still holds Woolsack Races on the last Monday in May, when teams and individuals race up and down a hill whilst carrying a sack of wool – a fine example of English eccentricity!
Nowadays the town has a variety of specialist shops including an abundance of Antique shops mainly located in Long Street. One of these is an Antiques Mall housing over 40 dealers on two floors – here you'll find anything from antique jewellery to pictures and furniture. You will also find a range of local shops in the town selling excellent local produce including a specialist cheese shop. If perusing the food outlets makes you feel a little peckish there are many good eating-places ranging from cafes and bistros to restaurants and hotels. One of our favourites is the Close Hotel, which serves a very reasonably priced lunch menu and has a secluded garden at the back where you can sit and relax on sunny days.
If you still have enough energy after lunch, head for Woodchester Mansion, a 19th Century Victorian Mansion about a 20-minute drive away. To get there take the A4135 towards Nympsfield, branch onto the B4058 then the B4066 to Woodchester Mansion. You can park in the National Trust car park at Woodchester Park and the mansion itself is about a miles walk from here. Situated in a lovely valley and spectacular parkland, Woodchester Mansion was left unfinished half-way through construction and now, being saved from dereliction, provides a fascinating insight into the architectural methods of Gothic builders and masons. Lucky visitors can enter the building on it's Open Days but you can have a wonderful afternoon enjoying the peaceful parkland and marvelling at the wonderful exterior of this building that is "lost" in time.
However before you know it, the time will have come to retrace your steps and head back to Bristol for dinner in a favourite restaurant, some nightlife or an early night after an exhausting day out.
If you are looking for other attractions while you are in Bristol check out our "Things to do" section