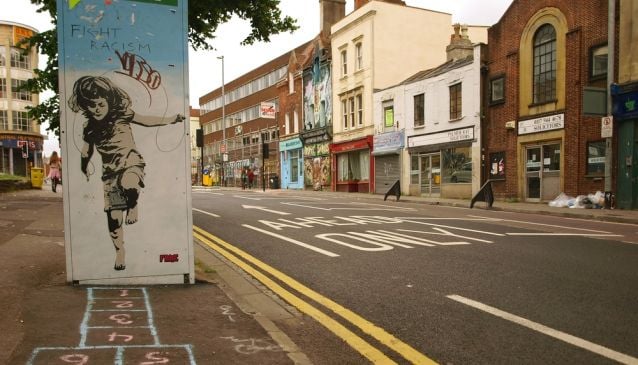 Stretch Your Legs in Bristol
Adventure
Gloucester Road is alive and well, bursting with independent shops and exciting bars.
In a hilly city like Bristol, walking may be somewhat strenuous at times, but forego the bus or head into the woods, and you'll experience some exciting corners that you might otherwise miss. Take Bristol's many estates for example. Historic and often spectacular, these huge elegant buildings and surrounding parkland are dotted all over the Bristol area, and make a particularly great day out for families.
Blaise Castle and Estate
To the north of the city centre, strangely close to both picturesque villages and the busy traffic of the M5, you'll find the delightful estate of Blaise Castle. One of Bristol's top destinations for a weekend wander, this parkland consists of the house and museum, a beautiful old folly, and acres of fascinating walks in both open grass and secluded forest.
Image: Flikr/jontangerine
Perfect for kids, there is a huge play area and cafe by the entrance, and further into the estate let the young ones search for the 'Giant's Footstep', plus his chair and cave!
Ashton Court
Famous within the city for hosting the - now sadly discontinued - Ashton Court Festival, this is another of Bristol's spectacular mansion houses within an estate. The core part of the canary-yellow castle dates from the 15th century, and this magnificent building is reason enough to pay a visit. However, the estate also features 850 acres of diverse country, and with over 1.6 million visitors annually, it has become the UK's third most popular country park.
Take a stroll through Ashton Court Estate and discover why so many Bristolians love this place. Take in ancient woodland, stunning formal gardens, and even poke around the mansion itself.
Image: Flikr/Simon Pow
Of course, heading towards greenery isn't the only option for a day out stretching your legs. There are plenty of Bristol streets and walkways to delight and surprise visitors:
Gloucester Road
This famous high street (even with its own website!) is one of a dying breed in Britain. Gloucester Road is alive and well however, bursting with independent shops, exciting bars and alternative restaurants. Start at The Royal Oak and walk down this bustling epicentre of Bristol life, on your way into the centre.
If you've got all day, incorporate a pub crawl; you can't get lost here, even after a few drinks. This route follows the one road straight into the centre, and you'll head through Stokes Croft - a centre of independent art, music and shops in the city and therefore unsurprisingly the site of an infamous dispute between local residents and supermarket giant Tesco. Look out for some interesting roadside graffiti.
Stay on the A38 and finish up at 'The Bearpit', in some ways the true heart of Bristol. Here, a sunken pedestrian island is surrounded by the noisy merging of several major roads. Connected to surrounding streets by a series of subways, The Bearpit has played host to hundreds of buskers over the decades, who've sung and strummed in the grim tunnels to cheer passing shoppers. Regeneration of this area started in 2012.
Avon Gorge
While in Bristol, don't miss out on one of the city's most overlooked (in more ways than one) features; the River Avon. While it's not especially picturesque (unless you have a thing for great swathes of slick mud), there are some spectacular views of Avon Gorge to be had. If you have access to a car, take a drive down the M5 to junction 19, and head via Pill to the village of Ham Green. There's a teeny road here called Chapel Pill Lane – if you park up you can embark on a riverside walk, following the mighty Avon into the city centre!
A different way to see Bristol, this walk will take you directly under the giant slice of graffitied rock that all drivers gawp at while snarled up in traffic on the opposite bank. A unique piece of the city, this massive expanse of stone is even more impressive from below, and you can even climb it if you're feeling brave…
Image: Flikr/Matthegarty
Another highlight of this city walk is the unusual view you will experience of the famous Clifton Suspension Bridge; normally seen from the viewpoints on the high bank, or marvelled at from the bridge crossing itself, now you will walk directly under it. Brunel's masterpiece shows its engineering excellence from every angle.
At this point, you may wish to turn around and head back to your waiting car. If however, you have been kindly dropped off at your starting point, you can continue on to the next city walk:
Clifton Village to Queen Square
Start off at the Clifton Suspension Bridge, walking east towards the centre. When you reach a pub on the corner called The Mall, turn right; this route will take you through one of the most charming shopping areas of Bristol - Clifton Village. Wander past high-end fashion boutiques; jewellery, art and gift shops; plus a scattering of quality food retailers. And all this set within some of the most beautiful Georgian architecture in the city. Walk slowly, and look out for The Clifton Arcade.
If you have a smart phone, aim to get lost. You want to end up somewhere near the university, but feel free to wander down any street that looks interesting - even the residential roads and crescents here are stunning, with both winding side streets of pastel cottages, and towering townhouses featuring gothic brickwork.
Once at the university, head down Park Street and over the quay, finishing up in Queen Square - a beautiful Bristol icon and one of the largest Georgian squares in Europe. Take a stroll to the centre, congratulate yourself on reaching your destination, and then head to the ancient Llandoger Trow for a well-deserved pint.
Image: Flikr/Mushkush