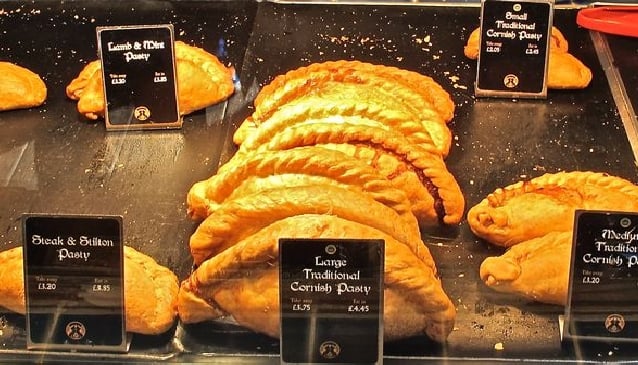 Top Ten Food & Drink in Bristol
Food & Drink
The alcohol content of Bristol's cider varies from 2% to a stonking 8.5%!
Bristol restaurants and bars, like any other major city, offer a wide range of drinking and dining experiences, from fast food to world cuisine to fine dining. When travelling however most food lovers wish to enrich their experience by discovering what and where the locals eat. What are the traditional foods and drinks? Where do I find them?
Here are just ten of Bristol's most traditional dishes and drinks.
Pieminister pies
Delicious and wholesome, these award-winning pies are truly scrumptious. Fresh, free range and natural ingredients form a wide choice of fillings, with some of the best including, Matador (beef and chorizo), Heidi (goat's cheese and cider), Pitanic (haddock, salmon and Pollock) and Mr. Porky (pork and cider). A personal favourite is Moo Pie, (steak and Ale) served with minty peas and onion gravy. Pieminister, a family–run company, born in 2003 is now a top place to eat for any Bristolian. The best places to sample them are at the Pieminister stall at St Nicholas Market or in the more glamorous setting of the terrace of the White Lion Pub in Clifton.
Cider
Cider is a favourite tipple in Bristol but take care if you indulge as the alcohol content varies from 2% to a stonking 8.5%! Made from cider apples, the local unfiltered farmhouse brew is called "Scrumpy", a name derived from the local dialect word "scrump" meaning a small or withered apple – try it if you dare! Large manufacturers including Thatchers and Bulmers produce a perhaps more palatable clear cider. Well-known cider institutions in Bristol are The Apple and The Coronation Tap.
Lardy cake
Rich and sweet and definitely not good for the figure, Lardy cake is a wonderful wicked accompaniment to afternoon tea or coffee. Made from lard, flour, sugar, spices, currants and raisins it's origins are thought to be in the pig farming area of Wiltshire in the South West of England when, using lard (from the pigs) was more economical than butter. Less popular these days due to our modern day preoccupation with weight and cholesterol, but if you see these delicious cakes, they are definitely worth trying. Available in good bakers and cafes, these offer a sweet treat before dinning out in Bristol.
Real Ale
Bursting with flavour, real ale is a popular brew in Bristol. Made from unfiltered, unpasteurized beer that has been brewed from malted barley, hops, water and yeast, it is hand pumped from the cask and served at room or cellar temperature. The Grain Barge, owned by the local independent brewery the Bristol Beer Factory, is a good place to sample real ale or the Commercial Rooms in the center. Other excellent local brews to look out for include Butcombe, Bath Ales and Arbor.
Cheddar Cheese
With its slightly yellow appearance, almost hard texture and sharpish flavour Cheddar cheese is one of the most popular cheeses in the UK. Its origins are in the village of Cheddar some 18 miles south of Bristol. Here 400 years ago, before the days of refrigeration, the caves around Cheddar Gorge provided the ideal temperature and humidity to stop the cheese drying out during the maturation period. The Cheddar Gorge Cheese Company is the only cheese-maker left in Cheddar - you can visit and watch the various stages of cheese making and of course buy some to try.
Clotted cream
Wicked but wonderful – especially with that special traditional English summer afternoon treat of tea, scones and strawberry jam! Look out for hotels, cafes and tearooms with a sign "Cream Teas sold here"
Bristol cream sherry
Smooth, sweet and satisfying, and usually enjoyed as an aperitif or desert wine, Harveys Bristol Cream is part of Bristol's history. It was created in Harveys Cellars in Denmark Street in the late nineteenth century. Popular in many parts of the world and now sold in a distinctive blue bottle you can enjoy it with a selection of tapas at Harveys cellars.
Cornish Pasty
The term "pasty" is the English word for a pie. A traditional pasty is a D-shaped pastry envelope filled with beef, potatoes, onion and swede, however it has evolved to include various fillings including curry and vegetarian. To experience a hand made Cornish pasty at its best visit the West Cornwall Pasty Company next to the arcade in Broadmead, Bristol.
Fish and chips
A British institution and all first time visitors to the UK should experience this culinary delight! Cod is by far the most popular (followed by haddock) and it will be found on most menus in pubs and restaurants. The traditional method of eating this dish is out in the open air, bought wrapped in paper as a take away from a fish and chip shop. Don't forget to add vinegar and mushy peas when ordering. The Clifton Village Fish Bar, Princes Victoria Street, Clifton is the place to head for.
Sausage and Mash
The British sausage does not resemble its German cousin in any way. British sausages are made mainly from fresh pork however there are also varieties made from beef, venison, lamb and various exotic combinations. Reasonably priced sausage and mash, usually served with onion gravy, will be found on most pub and restaurant menus. For top dinning in Bristol, head for the Clifton Sausage Company if you want the gourmet version.