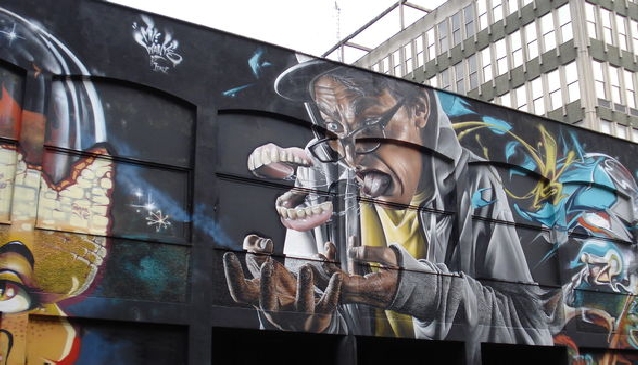 Street Art in Bristol
Arts & Culture
Banksy's identity is shrouded in mystery. Born in Bristol, nobody knows his true identity.
Who would have thought 30 years ago, that Bristol would become one of the street art capitals of the world! As recently as the 1990s, graffiti artists here were treated as criminals and their work was removed from surfaces around the city almost as soon as it was completed. The renowned Banksy, probably Bristol's most famous street artist, was amongst these so called offenders, warrants were issued for his arrest and much of his early work was removed and lost forever. Contrast that with today. Now Banksy is revered in the city and some of his work can fetch tens of thousands of pounds!
In Bristol, evidence of this change emerged in 2008/2009 when two hugely successful Street art exhibitions were staged by "respectable" institutions; "Crimes of Passion" showcasing the work of around 50 Bristol Street artists in The Royal West of England Art Academy was followed by the "Banksy vs. Bristol Museum" exhibition in the City Museum and Art Gallery. In the latter, illustrations and installations by Banksy could be found throughout the museum and visitors took great delight in hunting down the humorous and anti-establishment Banksy hangings hidden amongst the displays of "fine art".
Banksy's identity is shrouded in mystery. We know that he was brought up in Bristol but nobody knows his true identity despite the times when newspapers claim to have unmasked him. It is said that when preparing his exhibition at the city museum, only the curator actually met him and even she did not know which one of the installers he actually was!
The exhibition was hugely popular and those prepared to queue for hours to get a glimpse of work by the "master" were representative of all age groups and, all classes. Following this success, in 2011, Bristol City Council collaborated with Street artists from all over the world to produce "See No Evil", a permanent exhibition that transformed the buildings of a drab inner city street with a mass of huge, colourful and humorous artwork. Today tourists and locals alike, flock to Nelson Street to view and photograph this fantastic artwork.
So where should you start when embarking on a tour of the city's street art? The truth is you won't have to look far. Street art has become so acceptable that a growing number of establishments such as pubs, are commissioning artwork as exterior décor, often transforming every inch of their walls with quirky designs. At night the unusual designs painted on the closed shutters of small shops draw a smile and, are further testament to this rising trend.
Ah but this is not real street art I hear you say and you are probably right! Do not be concerned – there is still much for the purist to search out and see. After viewing the work in Nelson Street you may want to play the popular tourist game "Bag a Banksy" and see how many examples of his work you can spot around the city streets. Whilst some of his work is disappearing, victim to the elements, new buildings replacing old, or simple redecoration, enough remains to make "Bagging a Banksy" a worthwhile and entertaining pastime.
Several examples of his work are within easy reach of the city centre. Start with the "Grim Reaper" on the side of the Thekla, a nightclub on a boat on the harbourside; you will have to make your way to the opposite side of the harbour to see it. Rumour has it that this was the second "Grim Reaper" to be installed on the Thekla by Banksy, the first having been painted over by the authorities soon after completion. Next, make your way to the bottom of Park Street at the junction with Frogmore Street. Look up at the side of the building facing Park Street to see "The Hanging Man", depicting the escape of a lover through a window when the husband returns home unexpectedly. It is said that this was painted under the cover of scaffolding and sheeting to prevent the authorities from seeing what was happening. Then, make your way up Park Street to Bristol City Museum and Art Gallery, step inside and at the bottom of the stairs, you will see that the statue of the angel has an upturned paint pot over her head – this is a relic from the Banksy vs. Bristol Museum exhibition.
Still looking for more? You will have to venture a bit further afield so here are some ideas:
On Hamilton House, Stokes Croft, (BS1 3QY) look for a Teddy Bear preparing to throw a petrol bomb at the police.
On Thomas Street North (BS2 8LX) see if you can spot a flower in a rat trap.
At Portland Place, St Pauls (next to Cosies) look for a stencil showing a matador brandishing his cape at a car.
At Bath Buildings (BS6 5PT) look for a group of figures titled "Take the Money and Run" on a car park wall.
Near the junction of Fishponds Road and Sandy Lane see if you can find a Masked Gorilla.
This is just a taste of Street art in Bristol – more and more is popping up all the time so have fun on your explorations and drop us e-mail if you discover a hidden gem.
Check out this video on street art in Bristol: