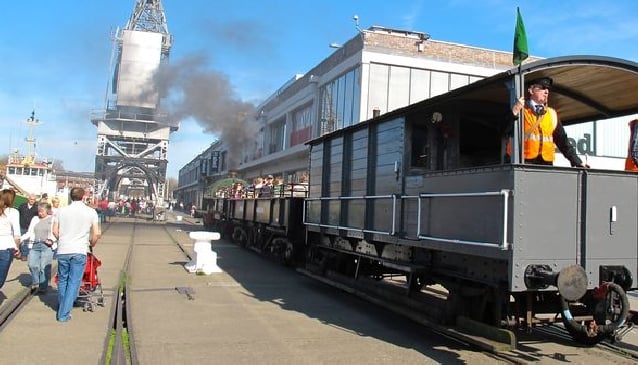 Full Steam Ahead in Bristol
Inspiration
Re-visit the era of steam at Avon Valley Railway and enjoy stunning views of Avon Valley
Ever since James Watt invented the Newcomen steam engine in the late 18th century the British have had a fascination with all things steam. This national quirk has resulted in many old steam engines throughout the country being restored to working condition. Often they are rebuilt from a state that many would say was impossible to restore.
In Bristol and the surrounding area there are some fine examples of old steam-powered engines being used to power trains, cranes and boats. The following exhibits, shows and excursions are open to the public on various weekends throughout the summer and are some of the top things to do in Bristol.
Puff along the harbourside:
Take a ride back in time aboard a real steam train. The shunting steam trains Henbury (1937) and Portbury (1917), both built in Bristol, spent their working lives in the main part of Bristol docks at Avonmouth. They were retired and replaced by diesel driven engines during the 1950s-1960s. Henbury and Portbury have been given complete overhauls by Bristol Museums and have now pulled thousands of visitors along the half- mile section of the Bristol Harbour Railway track between the M Shed and SS Great Britain. Portbury has been withdrawn for another major overhaul and is expected to return in 2013. Meanwhile hop aboard Henbury and take a nostalgic ride on his open goods carriages along the dockside.
Chug along in a tug:
Jump on board and see the harbour from an old steam tug. The Mayflower, the world's oldest working steam tug is now over 150 years old. This Bristol built tug used to work towing vessels on the Gloucester and Sharpness Canal, Bristol Channel and the River Severn upstream of Gloucester to Worcester. Mayflower was put up for sale as scrap in 1967 and was bought by a private buyer. She slowly deteriorated at her mooring in Gloucester until Bristol Museums & Art Gallery purchased her in 1981. She was restored to working order by a team of volunteers and regularly steams up during the summer.
A lifting experience:
Find out about life as a dockworker on an old working steam crane. The Fairbairn Steam Crane was built in 1878 and is the oldest surviving exhibit of its type in Britain. The crane was used to lift heavy loads from the deep holds of ships more efficiently than other cranes of the day. Despite its capabilities the crane was not a great commercial success because, by 1890 ships had become so big that the jib of the Fairbairn crane could no longer reach the required distance. Hydraulic machinery began to replace steam power on the docks and the Fairburn Crane gradually became redundant. It now fires up for visitors on a monthly basis.
A trip down memory lane
Re-visit the era of steam at Avon Valley Railway and enjoy stunning views of Avon Valley whilst chugging along in a carefully restored steam train. Steam trains run every Sunday, between Easter and the end of October, from a restored Midland Railway station at Bitton, near Bristol. Any yearnings to drive a steam locomotive can be fulfilled here if you book onto one of the courses giving instruction on how to drive and fire a steam locomotive! For children special Days out with Thomas promise lots of good old-fashioned family fun with Thomas the Tank engine in charge of the train.
Summer holiday excursion
Journey back in time aboard the Torbay Express. This a full 12-hour day trip on a mainline, steam-hauled train from Bristol Temple Meads Station to the Devon coast. The route follows the scenic Brunel's Great Western Railway line through Somerset and along the south Devon coastline. You have the choice of leaving the train at the seaside resort of Paignton for 5 hours or you can travel on to Kingswear and take the ferry over the picturesque River Dart to Dartmouth. Trains steam from Bristol on most Sundays from July to mid September.
Paddle down the water
The 693-ton paddle steamer Waverley was built on the River Clyde in the West of Scotland in 1947 to sail on the Firth of Clyde Steamer route. She waswithdrawn from service at the end of 1973 because she had become too costly to operate and was in need of significant expenditure The Paddle Steamer Preservation Society bought her for the huge sum of £1 and she was completely restored to her original 1940s style in 2003. Nowadays she sails around Britain offering regular day trips and visits the Bristol Channel in early September. Onboard the engines can be viewed from passageways on each side of the engine room
Steam Extravaganza
Travel back to a bygone era. Over a hundred steam engines of various types, size and shapes all belching smoke, are on show at the Steam Extravaganza at South Cerney Airfield, Cirencester, about an hours drive from Bristol. Steam road rollers, gigantic road locomotives, steam engines generating power for fairground rides, steam demonstrations and much more are on show for one weekend in August.
So full steam ahead, discover the British nostalgia for the heyday of steam engines and steam travel.